4/10/12 Dinner with Honored Guest Larry Summers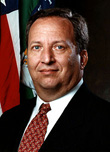 You are cordially invited to the

Harvard Radcliffe Club of Philadelphia
Annual Meeting & Dinner

with Honored Guest and Speaker
Lawrence H. Summers
President Emeritus of Harvard University and
Charles W. Eliot University Professor of Harvard University

Tuesday, April 10th, 2012
6:00 to 9:00 pm
The Pyramid Club
1735 Market Street
Philadelphia


Join us at the Club's Annual Meeting and Dinner on April 10th at the Pyramid Club. Our honored guest and keynote speaker will be Lawrence Summers who will discuss the politics of the economy. The evenings program will begin with cocktails at 6:00 (cash bar), followed by buffet dinner at 6:30, annual meeting 7:15 and keynote address at 7:30.

Lawrence H. Summers is President Emeritus of Harvard University. During the past two decades he has served in a series of senior policy positions, including Vice President of development economics and chief economist of the World Bank, Undersecretary of the Treasury for International Affairs, Director of the National Economic Council for the Obama Administration from 2009 to 2011, and Secretary of the Treasury of the United States, from 1999 to 2001.

Cost:
Harvard Business School Club Members: $65
Click here to Register!!!